22-23 Clothesline Project & Poster Contest Grants to RI high schools; Poster Contest Grants to RI middle schools
2021-22 Clothesline Project Grants given to 9 RI high schools
2021-22 RI Statewide Poster Contests at middle school & high school levels
Feb 2021 Dr. Mari Dias wrote article about our work at https://rinewstoday.com/griefspeak-be-the-change-you-wish-to-see-in-the-world-dr-mari-dias/
Sept-April 2020 Dating Violence Poster Contests held for RI high school students and RI middle school students
May 2020 Prizes awarded to winners of middle & high school poster contests
Feb 2020 Prize awarded to Riley Hebrock, Rogers HS (teacher David Connell) for winning Bookmark Design Contest

LABMF is pleased to fund the 2018-19 Clothesline Projects at East Providence HS, RI Nurses Institute MC HS, Toll Gate HS, Lincoln HS, and Paul Cuffee Upper School.

October 2019 Trained 69 RI, CT, MA school faculty at our Oct 25 All-Day Training for school staff
May 2019 Prizes awarded to RI Middle and High School poster contest winners
Jan 2019 "Lindsay's Friend" Awards presented to Thomas Grennan III and Don Champagne                
Oct 2018 Trained 63 faculty at our All-Day Training Oct 26
May 2018 Prizes awarded to winners of RI Middle School and High School poster contests
April 2018 Held discussion with junior class at Johnston HS after Drama Club presentation of the play "Love Is Not An Angry Thing"
Feb 2018 Presented "Lindsay's Friend" Award to teacher Karen Murphy at SKHS
Feb 2018  Presentation to student body at St Mary Academy-BayView
Dec 2017 Presented to Junior Class at Coventry HS; presented to Senior Class at Coventry HS
Dec 2017 Trained faculty at Nathanael Greene MS
Nov 2017 Met with Drama Club students at Johnston HS
Oct 2017 Trained 60 RI school faculty at our All-Day Training on Oct 27
Oct 2017 Student-designed t-shirts from LABMF funded Clothesline Projects at Johnston HS & Lincoln HS hanging outside ER of Women & Infants Hospital and Kent County Hospital
Sept 2017 Presentation to Johnson & Wales Univ students
Sept 2017 Trained faculty at RI Nurses Inst MC HS
August 2017 Trained faculty at Pilgrim HS & Vets JH
August 2017 Trained faculty at Toll Gate HS & Winman JH
August 2017 Trained faculty at Woonsocket HS
May-June 2017 Awarded prizes to Poster Contest Winners
March 2017  Trained RI teachers @ 2 Afterschool Workshops
Feb. 2017 Visited So Kingstown HS's Clothesline Project by Ms Murphy's students
Feb 2017 Presented to student body at St Mary Academy-BayView
Feb 2017 Trained faculty at Mystic MS
Feb 2017 Presented to 8th grade class at Mystic MS
Feb 2017 Presented to Junior & Senior class at Johnston HS
Jan 2017 Trained Cranston School Dept administrators
Jan 2017 Parent presentation at Wm Davies Career & Tech HS
Jan 2017 Trained faculty at Johnston HS
Dec 2016 Trained RI National Guard unit
Nov 2016 Panelist at RWU School of Law (Women's Law Society & Family Law Society) Domestic Violence Panel presentation
Nov 2016 dating violence panelist at MASS/MASC Conference in Hyannis
Oct 2016 Presented to RIC Personal Health class
Oct 2016  Trained 76 school staff at our All Day Workshop
Oct 2016 LABMF's IMAGINE 2016 Fundraiser Dinner
Oct 2016 Presented at the RI Family Court's Safe Passages Conference
June 2016 Presented to students at Nathaneal Greene MS
May 2016 Presented to ST Mary Academy-Bay View senior class
April 2016 Presented to entire student body at Mt Pleasant HS
March 2016 Trained 66 staff at 2 after school trainings
March 2016 Trained staff at Barrington Christian Academy
Feb 2016 Spoke at RICADV's press conference
Feb 2016 Presentation to Freshman Class at St Mary Acad-Bay View
Feb 2016 Presentation to Upper Class at Rocky Hill School
Feb 2016 Guest on Dr Mari Dias, Gracepointe Grief Radio talk Show
Feb 2016 Presentation to junior class at Shea HS
Jan 2016 Presentation to senior class at Lincoln School
Nov 2015 Afterschool Workshop for school staff
Oct 2015 All-Day Workshop for school staff
Oct 2015 IMAGINE Fundraiser
Sept 2015 Trained staff at Rocky Hill School
May 2015 Presentation to senior class at St Mary Academy-Bay View
May 2015 Trained staff at Tolman HS, Shea HS, Goff JH, Jenks JH, Slater JH
April 2015 Presentation to Lincoln School Juniors & Seniors
April 2015 Presentation to Rogers High School student body
March 2015 Presentation for Westerly parents
March 2015 3 hr Afterschool Workshop for RI School Staff
March 2015 Presentation to Wm Davies Career & Tech HS parents
March 2015 Presentation to Woonsocket HS students
Feb 2015 2 Presentations to Woonsocket HS students
Feb 2015 Presentation to St Mary Academy-Bay View freshman class
Feb 2015 Presented prizes to winners of Card Design Contest
Feb 2015 Trained staff at Exeter W Greenwich HS
Jan 2015 Trained staff at West Bay Collaborative
Jan 2015 Trained staff at Lincoln School
Dec 2014 Trained staff at Jenks JH & JW School for the Arts HS
Dec 2014 Trained staff at Pilgrim HS
Dec 2014 Presentation to freshman & soph classes @ Narraganset HS
Nov 2014 Awareness table at Roger Wm MS for parents/students
Nov 2014 3 hr after school training held for RI teachers at LMS
Nov 2014 Taught dating violence to 2 RIC health classes
Oct 2014 Trained 54 teachers at our All-Day Workshop for teachers
Oct 2014 IMAGINE 2014
Oct 2014 Attended RWU Silent Witness March
Sep 2014 Presentation at Mt Hope HS for soph & jr classes
Sep 2014 Trained staff at St. Mary's Home for Children
Sep 2014 Trained staff St. Luke's School
Sep 2014 Trained staff at Martin MS & Riverside MS
Sep 2014 Trained staff at East Providence High School
Aug 2014 Trained staff at Overbrook Academy
Aug 2014 Trained staff at Rocky Hill School
Aug 2014 Trained staff at Our Lady of Mt. Carmel School
2014 sponsored student-led "Clothesline Project" – 7 RI high schools
May 2014 Presentation to female students @ Mt Pleasant HS
May 2014 Presentation to students @ Met School Newport
May 2014 Presentation to seniors @ St Mary's Academy-Bay View
May 2014 2014 Poster contest judging
May 2014 Trained staff at LaSalle Academy
May 2014 Training @ NEngland Assn of School Nurses Conference
March 2014 Presented 3 afterschool workshops for RI teachers
March 2014 Trained staff at Esek Hopkins Middle School
March 2014 Presented to students @ Trinity Acad of Performing Arts
March 2014 Trained staff at Times2 Academy
March 2014 Trained staff at Martin Middle School
March 2014 Awareness table at NK LINKS Women's Nite Out
March 2014 Workshop for health teachers @ EDA-AAHPERD Conference
Feb 2014 Presentation to Freshman Class/Bay View Academy
Dec 2013 Trained staff at Harmony Hill School
Nov 2013 Trained staff at Burrillville HS
Nov 2013 CrossFit South Kingstown fundraiser for LABMF
Nov 2013 Awareness table at MT Pleasant HS Health Fair
Nov 2013 Presentation for students at Barlett Jr Sr HS, Webster MA
Nov 2013 Trained staff at Tiverton HS
Oct 2013 Held all-day workshop at RIC for RI/CT/MA teachers
Oct 2013 Trained staff at Winman JH
Oct 2013 Posters given to RICSNT's at conference
Oct 2013 IMAGINE dinner fundraiser for LABMF
Oct 2013 Panel presentation at Roger Wm Univ School of Law
Oct 2013 Trained staff at Tiverton MS
Sep 2013 Presentation for parents at Cole MS
Sep 2013 Trained staff at Segue IFL school
Sep 2013 Trained staff at Rogers HS & Thompson MS
2013 Trained Block Island School staff
Aug 2013 Trained Central Falls HS & Calcutt MS staff
Aug 2013 Trained 90 RA's at Roger Wm Univ
May 2013 Presentation to 500 girls @ Nathaniel Greene MS
May 2013 Trained RI School for the Deaf staff
May 2013 Trained special ed & mental health staff -Cumberland SD
May 2013 Trained staff at Valley Community School
April 2013 Had awareness table & spoke at CCRI's DV Awareness Event
April 2013 Trained staff at Ricci MS, No Providence
April 2013 Training for TA's held at No.Kingstown HS
April 2013 Trained faculty at Wickford MS
April 2013 Presenation at E Greenwich Rotary luncheon
April 2013 Presentation – St Marys Acad-Bay View – entire student body
April 2013 Two RI school staff trainings held at RIC
March 2013 RI School staff training held at RIC
Feb 2013 Private mtg w. VP Joe Biden at the WH; attended WH Program for Nat TDV Prev Month
Jan 2013 Trained faculty at Exeter-W Greenwich JHJan 2013 Trained faculty at Chariho HS, Chariho MS, Chariho Career & Tech CtrJan 2013 Trained faculty at Mt Hope HSDec2012 Trained faculty at Ferri MS
Nov 2012 Crossfit Southkingstown held fundraiser for LABMF www.crossfitsouthkingstown.comNov 2012 Trained health teachers at Chariho Middle & High Schools
Oct 2012 Presentation to Salve U students
Oct 2012 Parent presentation at Jenks JH in Pawtucket
Oct 2012 Panel presenter for the Family Law Society at Roger Wm Univ School of Law
Oct 2012 IMAGINE dinner dance fundraiser for LABMF
Sept 2012 All day workshop for health teachers & school staff 
Sep 2012  Presentations for parents at Cole Middle School
Sep 2012 Ann appeared on Katie Couric show on ABC
Aug 2012 Trained Rhode Island College RA's this month!
Aug 2012 Ann in NYC taped first episode of the new Katie Couric talk show to be aired on Sept. 10, 4pm on ABC. Topic: dating violence
 Aug 2012 Attended US DOE, Office of Safe & Healthy Students Nat. Conference on Improving Conditions for Learning (Gender Violence, Bullying, Discipline, Behavioral Health, School Safety)
July-Aug 2012 Presentations given to RI Rotary Clubs: North Kingstown, Warwick, Wakefield, Cumberland/Lincoln
May-June 2012 Prizes awarded to all middle & high school poster contest winners
April 2012 Winners of LABMF's high school & middle school poster contests have been chosen. Check them out on our website!
March 2012 Presented to Pegasus students at LaSalle Academy
March 2012 Presentation to the CT Parole & Probation Officers Assn at their conference.
March 2012 Presentation for Johnston SD faculty
March 2012 Presented at AAHPERD Nat'l Conference, Boston
Feb 2012 RITDVAM Flash Mob Dance at Kennedy Plaza!!!!!! see our Facebook page to view video
Feb 2012 Ann Burke appeared on Rhode Show, Ch 12 w. Deb Debare from RICADV…see our Facebook page to view video
Feb 2012 w. RICADV, DayOne, KBEP for Feb RITDVAM Kick-off event w. Champions for Change awards going to US Sen Whitehouse for his national tdv prevention work, RI Sen Lanzi for helping to pass the Lindsay Ann Burke Act; Dawn Romans, teacher and Tracy Jennerwein school soc wkr & youth group for their prevention efforts p=.
RI Sen. Lanzi and US Sen. Whitehouse
Feb 2012 NPR RI aired Ann's personal essay on their "This I Believe" series go to http://www.wrni.org/this-i-believe.html
Jan 2012 Presented at annual conference of Nat Assn Secretaries of State
Jan 2012 Presentation given at Coventry HS
Dec 2011 Met with Senator Whitehouse's staff re: RI efforts for February NTDVAM
Dec 2011 Attended 2 mtgs at White House w. VP Biden's staff & Lynn Rosenthal,WH Advisor on DV re: dating violence policies & education in schools & ideas for Feb. Nat Teen Dating Violence Month
Dec 2011 Trained staff at Woonsocket's 2 Middle Schools
Dec 2011 Participated in Time to Talk Day at Liz Claiborne's NYC headquarters
Dec 2011 Trained students in Weber Hall, RIC
Nov 2011 Presented to students at Weber Dorm, Rhode Island College
Nov 2011 Trained new teachers at South Kingstown School Dept.
Oct 2011 Trained 60 student members of Tiverton HS Peer Helping Network
2011 Presented all-day workshop for RI health teachers
Sept 2011 Ann appeared on ABC's "The View" with VP Joe Biden  
Sept 2011 parent training done at ColeMiddle School, EG
Sept 2011 Ann & Chris Burke met privately with Vice-President Joe Biden & Dr. Jill Biden at their DC residence before attending the Reception for the 17th Anniversary of VAWA
Jill Biden, Chris Burke, Vice-President Joe Biden, Ann Burke
Aug 2011 LABMF training for Rhode Island College Resident Assistants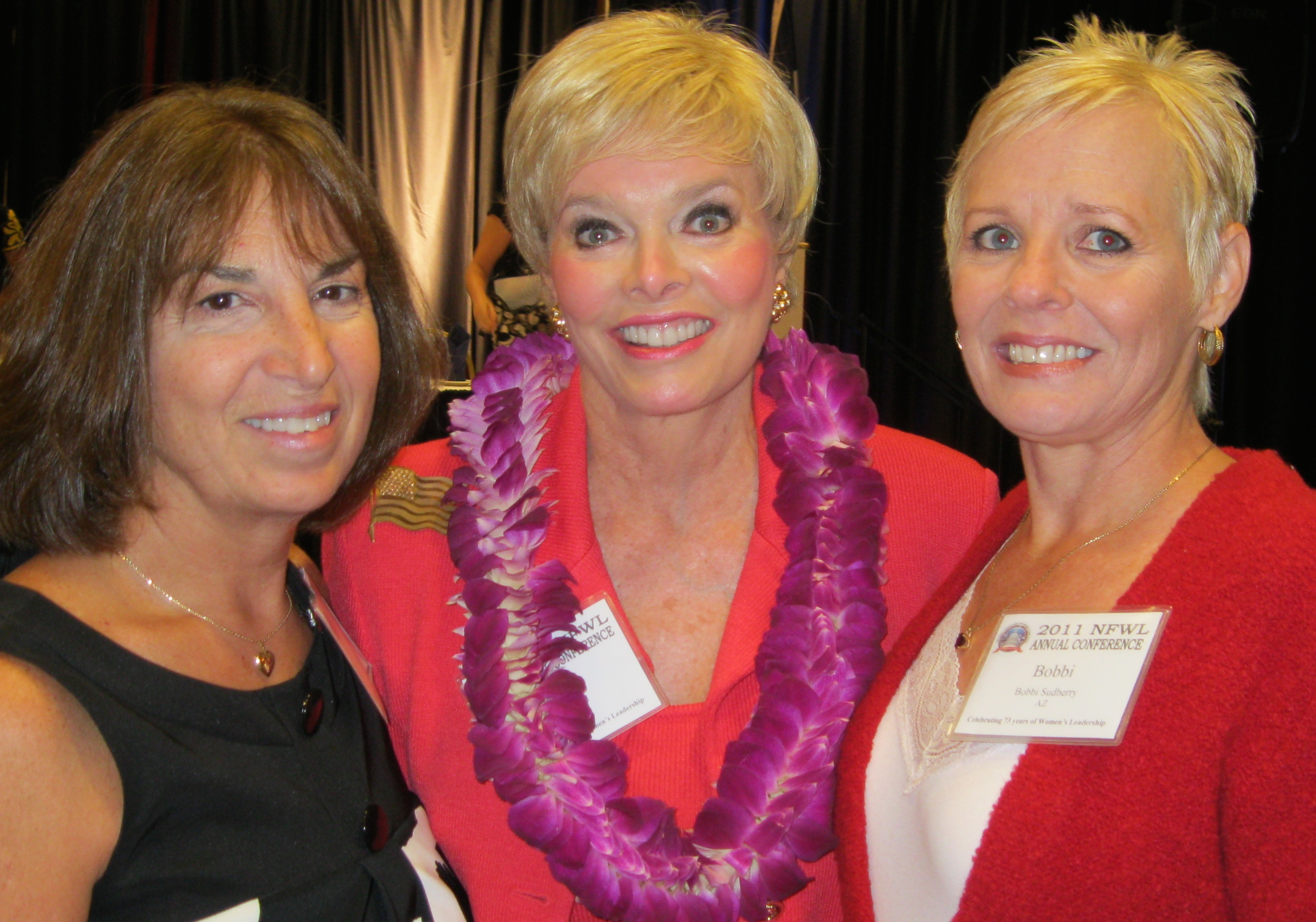 Ann Burke, LABMF; Robin Read, CEO NFWL, Bobbi Sudberry, Kaitys Way
Ann and USDOE Secretary Arne Duncan
Kevin Jennings Asst Dep Sec, Off of Safe/Drug Free Schools
USDOE Sec Arne Duncan giving keynote speech
April 2011 – presented Train the Trainer DVD workshop for RI school staff
Feb 2011 – presentation given Ponagansett HS for Parents/Students
Dec 2010 – 2 all-day workshops for teachers/advocates in Louisiana, sponsored by Louisiana Appleseed, LACADV, and LA Dept of Ed. Click here to view article in LA's Advocate http://www.2theadvocate.com/news/latest/111769574.htmlshowAll=y&c=y
Nov 2010 – staff training Bridgham Middle School
Nov 2010 – staff training at Ponagansett High School
Oct 2010 – LABMF annual fundraiser "Imagine" dinner dance
Sept 2010 – all-day workshop for RI health teachers held 9/30
Sept 2010 – Ann attended VP Biden's Reception for the 16th Anniversary of VAWA, at his DC residence
Sept 2010 – Coventry High School staff trained
Sept 2010 – Cumberland HS & MS Health/PE teachers trained
August 2010 – Burrillville High School Health/PE & UA teachers trained
August 2010 – Rhode Island College Resident Assistants trained
May 2010 – parent training Winman Jr High
May 2010 – parent training Gorton Jr High
April 2010 – Unsung Hero Award received by Ann Burke at the US House of Representatives. Ann was nominated by Sally Schaeffer of the Family Violence Prevention Fund and was one of three advocates honored. This celebration was sponsored by Investigation Discovery, Congressional Caucus for Women's Issues, National Network to End Domestic Violence, and Women's Policy, Inc. Paula Zahn was emcee and presented the awards. Ann was introduced by Congresswomen Jan Schakowsky (D-IL).
Chris & Ann Burke, after receiving the Unsung Hero Award for Women's Issues, sponsored by Investigation Discovery
Paula Zahn with Chris & Ann at the House of Representatives
The 3 recipients of the Unsung Heroes Award at the House of Representatives were Ann Burke, Peter Rivers, and Lilada Gee
Congresswoman Jan Schakowski (D-IL), Co-Chair of Congressional Caucus for Women's Issues introduced Ann at the Unsung Heroes Celebration in the House of Representatives
April 2010 – parent training at Westerly Middle School
April 2010 – staff training at Hope High School
April 2010 – staff training at Narragansett Pier Middle School
March 2010 – training for health/PE student teachers at University of Rhode Island
March 2010 – staff training for Cranston High School West and Cranston HS East
Feb2010 – staff training at Riverside Middle School
Feb 2010 – Jamestown Lawn School parent training
Feb 2010 – Ann presented to Parent group at Portsmouth High School and part of panel on keeping teens safe
Jan 2010 – Ann interviewed for Fox & Friends http://www.foxnews.com/search-results/m/28407951/mother-turning-tragedy-into-teaching-tool.htm#q=lindsay+ann+burke+act
Dec 2009 – Ann, Karen & SK students featured on CBS Evening News with Katie Couric…Lindsay Ann Burke Act featured http://www.cbsnews.com/video/watch/?id=5882755n
Dec 2009 – Time to Talk Day, Liz Claiborne Inc, NYC, Ann was interviewed by several radio talk show hosts including Alan Colmes and mommy bloggers
Nov 2009 – interviewed by Katie Couric for CBS Evening News
Nov 2009 – trained staff at Westerly High School
Nov 2009 – trained staff at Cumberland High School
Nov 2009 – trained new staff in So. Kingstown School Dept
Nov 2009 – health teacher training for Norwalk HS, Brien McMahon HS, & Greenwich HS, CT
Oct 2009 – Wilbur & McMahon Middle School staff trained
Oct 2009 – spoke at Silent Witness program at Johnson & Wales Univ
Sept 2009 – all-day training for RI health teachers
Sept 2009 – St Mary Academy-Bay View staff trained
Sept 2009 – Jamestown Lawn School staff trained
Sept 2009 – presentation at the Nat. Foundation of Women Legislators Annual Conference in N. Mexico
August 2009 – RA's at Rhode Island College trained in tdv
July 2009 – Ann was a presenter at a panel discussion on school policy at the Robert Wood Johnson Foundations Start Strong Youth Initiative Conference in San Francisco, hosted by Family Violence Prev Fund
June 2009 – Testimony of Ann, June 10 at the US Senate Judiciary Committee hearing on VAWA http://judiciary.senate.gov/hearings/hearing.cfm?id=3898
Chris and Ann Burke with Sally Schaeffer from the Family Violence Prevention Fund and Leila George-Wheeler, Professional Staff Member on the Committee of the Senate Judiciary directly following my testimony
Chris and Ann Burke with Gabrielle Union, actress, after the hearing
June 2009 – BlogTalkRadio interview: "Tough Talk with Tamika" blogtalkradio.com/toughtalkwithtamika
May 2009 – North Kingstown United Methodist Church Women's Club tdv training
April 2009 – Rhode Island College presentation
April 2009 – Kickemuit MS staff training
April 2009 – Parent training for Cranston School District held at CHSW
April 2009 – RI school staff training held at CCMS
March 2009 – Roger Williams University Women's Center made Ann an honorary member
March 2009 – Ann & Karen received the RIAHPERD 2008 Meritorious Service Award
March 2009 – RI school staff training
March 2009 – Middletown High School parent training
March 2009 – Gorton Jr High faculty training
March 2009 – Providence health teacher training
March 2009 – Middletown High School "Natural Helpers" training
February 2009 – Winman JH parent training
February 2009 – Winman JH faculty training
February 2009 – Portsmouth High School parent training
February 2009 – Providence health teacher training
January 2009 – health teacher training for West Warwick School Dept
January 2009 – school nurse-teacher training for RICSNT
January 2009 – administrator training for Cranston School Dept
January 2009 – administrator & mental health professional training at West Warwick School Dept
January 2009 – health teacher training for Providence School Department
January 2009 – ABC World News featuring S.Kingstown Schools and Ann, Karen Murphy, Martha Barbera go to http://abcnews.go.com/WN/story?id=6586148&page=1
January 2009 – staff training at Middletown High School
January 2009 – staff training at Cole Middle School
December 2008 – staff training at South Kingstown High School
December 2008 – health teacher training in Cranston S Department
December 2008 – staff training at Curtis Corner Middle School
December 2008 – parent training at Central Falls High School
December – participated in It's Time To Talk Day at Liz Claiborne headquarters in NYC. Interviewed by several talk radio shows and formally introduced MADE, our new national advocacy group for dating violence education, see loveisnotabuse.com/made
Ann Burke, Anne Glauber of Ruder Finn Inc, Elizabeth Crecente, and Kim Davidson (Ann, Elizabeth (www.jennifershope.org), and Kim are mothers whose daughters were murdered by ex-boyfriends)
Chris Burke with Alan Colmes after being interviewed for Alan's talk radio show
December – Redbook article introducing MADE (Moms and Dads for Education to stop teen dating abuse)
November – Parent Training in East Greenwich
November – Presented at the National Foundation of Women Legislators Conference in Sarasota, FL, along with RI Atty General Patrick Lynch and the Liz Claiborne Corp.
November – parent awareness training in East Greenwich, RI
November – trained staff of Barrington Middle and High Schools
November – all-day health teacher training
October – all-day health teacher training
September-June – after school workshops for RI school staff offerred at Curtis Corner Middle School and Davies Career & Technical HS, Lincoln